Our Services
Pest
Our Clients
Services
We specialize in providing all types of following pest control service
Termitube system –A gen-next revolutionary technology by laying piping network under the floor in construction stage.
Pre construction anti-termite treatment for upcoming buildings in construction stage.
Post construction anti-termite treatment in existing buildings.
Cockroach management services in residential & commercial buildings.
Mosquitos & flies management services in residential & commercial buildings.
Bedbugs management services.
Rodent management services.
Fumigation services.
Weed management services.
Non chemical pest management
Consultancy services.
Water Proofing for new & old buildings
Thermal insulation
Termite Management Service
A. -Pre-construction anti termite treatment (for upcoming buildings).
This treatment is essential for new upcoming residential and non-residential buildings comprises of creating chemical barrier along the building to make it fully safe from termites infiltration & damage and is carried out at the early stage of construction by treating the soil in the foundation trenches, backfill earth and under floors. Final treatment is carried out in the external perimeter of the building or before the plinth protection is laid.
B. -Laying of tubing network under the floor during the construction.
This technology consists of intelligent network of joint less flexible perforated pipes which is laid under the floor and cover the internal S external periphery of plinth walls of the building, once the building is ready, pesticides are pumped into the network periodically, network uniformly spreads the pesticide in the entire soil \ plinth area.
C. -Post construction anti termite treatment (for existing buildings).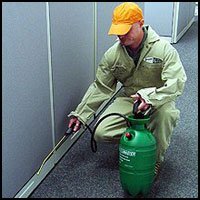 This treatment is essential for controlling the termite infestation in the existing building premises. This is a highly specialized treatment which is carried out by drilling holes all along the perimeters from out-side of the building as well as in specific areas where wooden fixtures are embedded in floors and walls, water based chemical emulsion is sprayed or injected through these holes until properly soaked in order to create a strong chemical barrier impervious to termite. Termite galleries are removed and injected with fumigants and complete fix woodwork is thoroughly impregnated with special wood preservatives to make the wood resistant to further termite attack. The effectiveness period depends upon the infestation level. If during the effectiveness period any termite infestation occurs then we shall do the treatment again free of cost for removing the termite infestation.
D. -Termite control maintenance (for apartments, offices & basements).
Termite control maintenance services comprises of removing existing termite infestation by way of injecting effective termiticides in termite galleries and spraying wood preservatives on the entire fix woodwork to make it resistant to future termite attack. This treatment is essential for multi-story apartments and those buildings, which is having basements. Routine checkups and treatment follow the treatment carried out initially if necessary.
Rodent Control Services in Delhi
Rodent Control: The treatment comprises of keeping bait stations with safer rodenticide in hidden corners of the rooms or where the presence of rate is noticed or expected. Our trained operators keep on changing the positions and refill the bait stations on their schedule visits. Under normal circumstances rats are suppose to run out buy chemical reaction and they do not die within the premises. If the problem of rats is more, than we may also use the technique of acute poisoning, trapping, cutting and fumigation of rat burrows. Contact us(best rodent control company in Delhi) to get rid of the rodent (rats) from your loved homes.